Scarborough Businesses in the News
Luxury Apartment Project on Haigis Parkway
Tuesday, July 3, 2018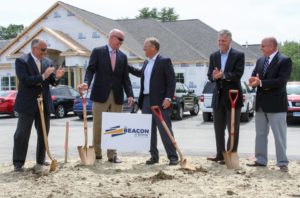 The Beacon at Gateway hosted a ground breaking ceremony this afternoon for the 288 -unit luxury apartment project on Haigis Parkway.  About 40 folks attended the ground breaking including Council Members, Town and SEDCO staff, members of the project team and the original property owners.  The project is underway, with the first apartments projected to be leased for October 1, 2018 occupancy.  A model is anticipated to be available to view in September.    The apartments range in size from efficiencies to 3 bedrooms, with the bulk of the units being in 1 to 2 bedroom size.  They've begun pre-leasing and have a full time property manager.
The project will employ 6 full time employees – 3 office and 3 maintenance workers.
There is a construction crew of anywhere between 100 to 150 workers on site daily as the project is built.  The construction management team is out of state, but the workers are local.
Ben Divine, the principal partner in the project and spokesperson for the ground breaking, told the crowd that many people came together to make this project possible.  He also spoke of Scarborough's incredible location as a factor in the future success of the project. Devine explained that the success of the project is due to his team of partners, the ease of working with the Town and the vision of the property owners, who are long-time Scarborough residents.